Update (Tuesday, March 31st, 2015):
Drabbleclassics 19 - So You're Going to Die
Feature:
So You're Going to Die
by
Robert Reed
Drabble:
Smoking Robots

(Scroll to the last "Planet Z")
by
Laurence Simon

(Scroll to "WHO AM I?")
Genres:
Drabbleclassics Drama Horror Sci-Fi
Original Episode:
149
Warning: Violence and cursing of a graphic nature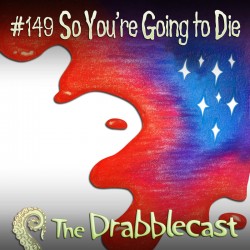 Wednesday, February 3rd, 2010
The energy and personality of a person can get stuck before it evaporates from our world. Wood is a fair dumping ground. Something about its pore size and how cellulose vibrates. A person can get himself pasted inside the wall or the floorboards. The body and brain quit, but the rest of the bastard lingers, and that's the weird quantum trickery that for thousands of years people have called a ghost...
Music by: Norm Sherman, David Gosnell, and Pete Anthony
Episode Art:
Abbie Hilton
Additional credits:
100 word stories podcast (Name has now been changed)
Guild of the Cowry Catchers
This story is a Drabblecast original.
Twabble:
" When bin Laden released his new tape we felt jaded, we'd seen it before.
It turned out to be a sex tape. We knew true terror. " by
Munsi