Update (Thursday, February 26th, 2015):
Drabbleclassics 17 - Apologies All Around
Feature:
Apologies All Around
by
Jeff Soesbe
No drabble for this episode.
Genres:
Drabbleclassics Drama Sci-Fi
Original Episode:
76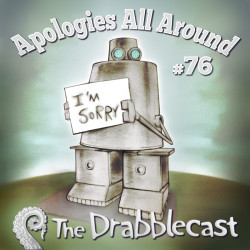 Wednesday, August 13th, 2008
"Pardon, Winston Sinclair, I am not here to sell you something. I am not here to buy something. Winston Sinclair, sir, I am here to apologize..."
Episode Art:
Bo Kaier
DrabbleNews:
Romeo guinea pig causes baby boom
Originally published in
Flash Fiction Online
, February 2008.
No twabble for this episode.