Feature:
Love in the Pneumatic Tube Era
by Jessica Grant
Drabble:
Mixed Martial Hearts
by Owen Diamond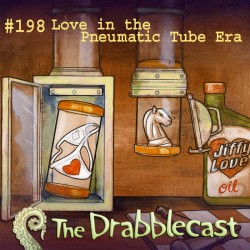 Wednesday, February 16, 2011
We discover old scrolls that we wrote to each other in high school, back in the Early Pneumatic Tube Era. That was back when a PT message took five minutes to get across the city.
We shake our heads. Now you can send a living butterfly to Dubai in ten seconds...
Pendragon Variety Podcast
Peter Diamond
Kate Baker
Art by
Matt Wasiela