Update (Monday, August 11th, 2014):
Drabbleclassics 5 - Code Brown
Feature:
Code Brown
by
Dermot Glennon
No drabble for this episode.
Genres:
Comedy Drabbleclassics Sci-Fi
Original Episode:
29
Warning: Grossness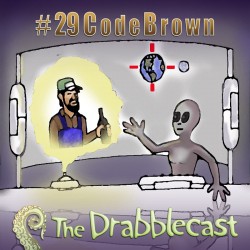 Wednesday, September 12th, 2007
"We cannot destroy it- it's too valuable" said Klugscheisser "And yet, it would be dangerous to keep it. We must hide it in the last place that anyone would ever think of looking for it..."
Episode Art:
Jonathan Wilson
A Drabblecast original story.
No twabble for this episode.