Feature:
Singularity Knocks
by
Will Ludwigsen
Drabble:
Lab Rats
by
Nicholas J. Carter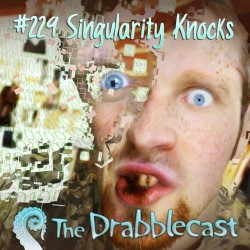 Tuesday, January 10th, 2012
"You don't have to talk like that to us, mister," I said. "We know town-speak just fine."

The man with the hat put it back on his head and smiled with a hint of embarrassment. "Sorry, folks. Sometimes it helps, you know, smooth the way."

That man with the computer was lurking by the corner of our porch, holding it up and aiming some kind of camera at the eaves. He steered a pair of laser beams from one end to the other. I figured I'd let him do what he was doing if I didn't see any harm.

"Smooth the way for what?" I asked. I knew what was coming next, what was always coming: talk of imminent domain, of making way for progress.

"Something exciting," he said, lifting up a foot onto the lowest step. "Opportunity of a lifetime…"
Episode Art:
Forrest Warner
Music by
Avett Brothers