Feature:
The Other Lila
by
Gwendolyn Clare
Drabble:
The Swap Last Fall
by
James Rogers
Genres:
Drama Romance Sci-Fi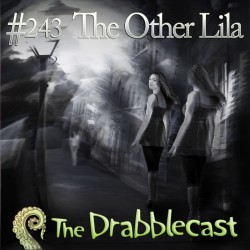 Thursday, May 17th, 2012
I step out of a porter booth in the overheated Los Angeles station and reach up to peel off my winter coat. That's when I realize something's wrong with my hand — it feels numb and prickly, and the fingers aren't quite responding the way they're supposed to. Weird. I don't recall circulatory problems being listed among the possible side effects…
Episode Art:
Richard K. Green
Read by:
Naomi Mercer
Twabble:
" "1000 bucks to hunt zombies in your park? Where'd you get them?"
"We started with 22. The rest were like you. Customers." " by
MattMooreWrites