Feature:
Hullabaloo
by
Diane Turnshek
Drabble:
A Few Errands
by
Nathan Lee
Genres:
Sci-Fi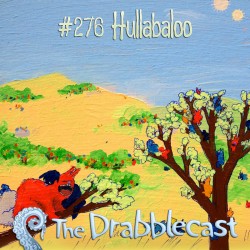 Tuesday, March 19th, 2013
The Town Council meeting was split down the middle — Hullabaloo colonists on the one side and Fenella Elane Tyne on the other. Jerram stood in the back and admired the way Fenella strove to convince the tired farmers. Pacing around the podium, she brought to bear the power of unmatched intelligence, impeccable honesty, and polished verbal skills. In the discordant discussion that followed, Jerram studied her serious face. She was magnificent, but hopelessness coursed through him. She didn't have a chance of winning anyone over to her side. And he did not have a chance of winning her.
Part of
Women and Aliens Month
.
Art by
Kelly MacAvaney
Read by Marguerite Kenner
castofwonders.org
Twabble:
" His crime was subject to the jurisdiction of Poseidon. As is tradition, he chose his means of punishment: firing squid. " by
Horst Ragnarok