Update (Sunday, June 8th, 2014):
Drabbleclassics 1 – Clown Eggs
Feature:
Clown Eggs
by
Jay Lake
Drabble:
The Absurdly Connected Machine
by
J. Alan Pierce
Genres:
Drabbleclassics Strange
Original Episode:
115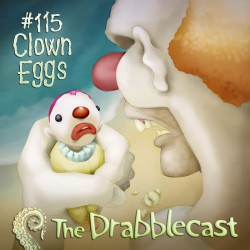 Monday, May 25th, 2009
The spring tide rolled across Momus Beach, tossing the flaccid corpses of clowns like so many torn balloons. Weathered to a dispirited pallor, they twisted in the foamy surf with the eternally surprised expressions of the dead..
Episode Art:
Bo Kaier
Originally published in
Abyss & Apex
, 2004.
Twabble:
" The unfortunate explosion of the rabbit was gory, but mostly ironic given John's last comment: "And for my next trick…" " by
LajesticVantrashellofLob