Feature:
Liane the Wayfarer
by
Jack Vance
Drabble:
And If You Gaze Into the Abyss
by
Derek Manuel
Genres:
Fantasy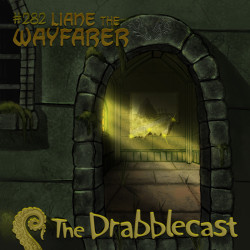 Tuesday, May 7th, 2013
Through the dim forest came Liane the Wayfarer, passing along the shadowed glades with a prancing light-footed gait. He whistled, he caroled, he was plainly in high spirits. Around his finger he twirled a bit of wrought bronze—a circlet graved with angular crabbed characters, now stained black.By excellent chance he had found it, banded around the root of an ancient yew. Hacking it free, he had seen the characters on the inner surface—rude forceful symbols, doubtless the cast of a powerful antique rune . . . Best take it to a magician and have it tested for sorcery.
Episode Art:
John Blaszczyk
Twabble:
" Four times they took him. Every time an anal probe. Now he was prepared. Every night he ate three fortune cookies. Whole. " by
Lyda