Feature:
Bayou Witch
by
Caitlin Thiele
Drabble:
In the Shelter of Each Other
by
Rachael K. Jones
Genres:
Fantasy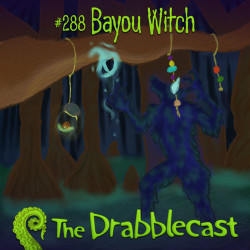 Tuesday, July 9th, 2013
Cat's tail flicked impatiently back and forth across Elle's face. She resisted the urge to brush it away. Mud tugged at her feet, and putrid water soaked through her shoes. She ducked beneath a low hanging branch dripping with old man's beard. It trailed over her shoulders, and evidently Cat, who dug his claws into her scalp slightly in payback. She bit her lip at the pain.
Episode Art:
K. Martinez
Twabble:
" Red. Red everywhere. I let it enter my house. I dab a finger for a taste. Jam. The peanut butter has gone feral. I am afraid. " by
Big Bad G