Feature:
The Apothecary's Apprentice
by Craig Lincoln
Drabble:
The Necromancer's Apprentice
by Arun Jiwa
Genres:
Fantasy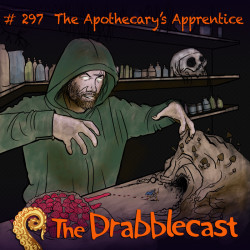 Tuesday, September 24th, 2013
In the back of the shop I scrubbed three large cauldrons clean, stripping the seasoning from them because Master Aloz insisted on it once the trade caravans stopped coming at the end of summer. Tallow, he called me, on account of my paleness. I used a brush made of iron bristles instead of horse hair, scraping away the brown muck inside, various plant and animal parts rendered into sludge like droppings from a sick bull. My book lay on the floor beside the cauldrons. Sir Tannis and the Hydra. It seemed I wouldn't get to read much of it today…
Episode Art:
Sean Azzopardi
Read by:
Dave Thompsoni
Twabble:
" Spiked punch, a trashed gymnasium and his mother passed out in a chair.
Oedipus began to regret his choice in prom dates. " by
BagaBones