Episode 303 - Hero, The Movie pt. 1
Feature:
Hero, The Movie pt. 1
by
Bruce McAllister
Drabble:
When the Mighty Fall, Give Us a Call
by
Derek Manuel
Genres:
Action Sci-Fi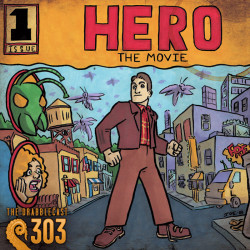 Monday, November 18th, 2013
This romantic comedy begins where all low-budget '50s creature-features ended: The mutant insects born of atom-bomb radiation (or invaders from space, or monsters from the sea, or fifty-foot women) have at last been defeated and our small-town hero, with girlfriend Janie or June or Betty at his side, must now face the rest of his life. Didn't we wonder what his life would be like after the final credits rolled? After you save the world, what's left? You can marry the Professor's daughter, sure. You can sell the rights to your story. Be on national talk shows. Hold onto fame a little longer. But then what?
Reference:
The Village Sang to the Sea
and
The Girl Who Loved Animals: And Other Stories
Episode Art:
Joe Botsch
Twabble:
" Jenifer never brushes her hair
Which is why I now live there
Since my roots reached her brain
Jen's not been quite the same " by
MonsierMoustache
---
Episode 304 - Hero, The Movie pt. 2
Feature:
Hero, The Movie pt. 2
by
Bruce McAllister
No drabble for this episode.
Genres:
Action Sci-Fi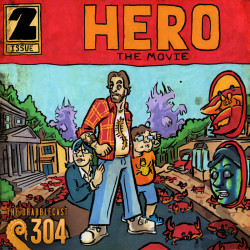 Saturday, November 23rd, 2013
Rick takes the money the Mayor of Corkscrew has wired him and flies to Florida, feeling his oats, full of hope. He's met at the airport by one of Mayor Delameter's staff and driven to his hotel, the old but clean and dry Swamp Hotel in downtown Corkscrew. The next morning he's out at the edge of town where Main Street runs along the Corkscrew Swamp Sanctuary and he's surveying the marching battalions of Gecarcoidea natalis—little, red, forest-dwelling crabs about the size of your palm that are migrating, as they do each year—though not usually in such numbers—through the town, back to the swamp to breed . . . and taking their sweet time doing it. .
Buy this:
The Village Sang to the Sea
and this:
The Girl Who Loved Animals: And Other Stories
Episode Art:
Joe Botsch
Twabble:
" Finally I asked "So what do the crop circles mean?" The alien smiled "Well you know how humans draw penises everywhere?" " by
Spindaddy