Feature:
All the Young Kirks and Their Good Intentions
by
Helena Bell
Drabble:
Supply
by
Myles McDonough
Genres:
Sci-Fi Strange
Warning: Some explicit language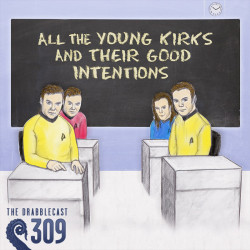 Sunday, January 12th, 2014
2249 A.D.

All the young Kirks in Riverside Public High School are assigned to the same Homeroom class. They sit together in the back corner on the far side from the door. They speak only to each other.
Episode Art:
Jonathan Wilson
Read by: Zoe Kerr, Paul Huntington, Naomi Mercer, Bryan Lincoln
Twabble:
" Dear ancient roly poly king, Matured to stone and bone. You have outlived all the other things, and now you're all alone. " by
sigment