Feature:
The Carnival Was Eaten, All Except the Clown
by
Caroline M. Yoachim
Drabble:
Flotsam and Jetsam
by
Norm Sherman
Genres:
Fantasy Strange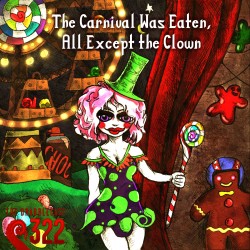 Thursday, April 24th, 2014
The magician's table was covered by a sheet of plywood, four feet square, completely wrapped up in aluminum foil. Sugar magic was messy magic, and the foil made for easier cleanup. Scattered across the aluminum were misshapen chunks of candy, the seeds from which the carnival would grow. And grow it did.
Episode Art: Shea Bartel
Story originally appeared in Electric Velocipede #27.
Twabble:
" He heard creaking, cracking. A hiker fell on his head. Then a huge limb. Then the bear. Bad things really do come in trees. " by
UnseenTangerine