Feature:
Missed Connection
by
Michael Marshall Smith
Drabble:
The Silence
by
Dr. Dad
Genres:
Horror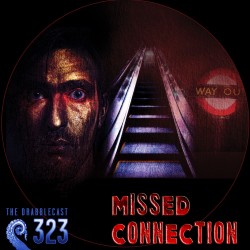 Sunday, May 4th, 2014
Lawson was already regretting the decision to go shopping by the time he was standing in line waiting to buy a ticket for the tube. All but one of the time- and labour-saving automatic ticket dispensers was either closed or unable to give change, and it was all he could do not to let out yelps of irritated despair at the inability of those in front of him to understand the process of getting the machine to yield up its wares. The station seemed to be unusually full of squalling children and jabbering mad people, and the flu which he'd thought in decline was thriving in the damp mildness of the winter afternoon. All in all he was beginning to feel like death cooled down, and he was barely on step one of the afternoon.
Episode Art:
Richard K. Green
Read by:
Dan Chambers
First appeared in
The End of the Line
anthology, 2011.
Twabble:
" At the end of the date they looked at her photos. "This is my favorite" she said. It was him, years ago. They were all of him. " by
inkhat