Feature:
Earth Music
by
Miriah Hetherington
Feature:
Golden Age of the Paleozoic
by
Ken Liu
Feature:
Weekend with an Owl God
by
Frank Key
No drabble for this episode.
Genres:
Comedy Fantasy Horror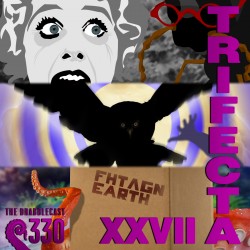 Monday, June 30th, 2014
For the Drabblecast's 28th trifecta anthology, we explore 'changes of heart.'
Episode Art:
Forrest Warner
Read by: Mat Weller, Geoff Welchmann
Twabble:
" They survived by living off the land. They raised chickens, grew their hair long, and protected the levee.
Dam hippies. " by
Josh Peters