Feature:
On a Clear Day You Can See All the Way to Conspiracy
by
Desmond Warzel
Drabble:
Not From Around Here
by
Derek Manuel
Genres:
Strange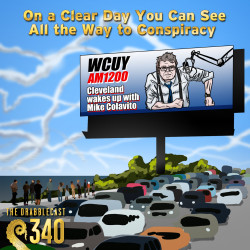 Sunday, October 5th, 2014
You're listening to the Mike Colavito Show on Cleveland's home for straight talk, WCUY 1200. The opinions expressed on this program do not reflect those of WCUY, its management, or its sponsors.
Fair warning; I'm in a mood today, folks.
We've got a mayor whose only talent seems to be showing up at luncheons and waving at the cameras.
Eighty bucks I had to pay yesterday for not wearing my seatbelt. Show me the seatbelts on a school bus.
Read by: Dave Robison, Mike Boris, Rish Outfield, Mat Weller, Nathan Lee, Ray Sizemore and You!
Episode Art:
Jonathan Sims
First appeared on
SFReader
, 2009
Twabble:
" Peter wiped Tootle's blood from his mouth. Another saved from growing up. Wings flew him away to look for more lost boys. " by
MonsieurMoustache