Feature:
Why I Hate Zombie Unicorns
by
Laura Pearlman
No drabble for this episode.
Genres:
Comedy Fantasy Horror Strange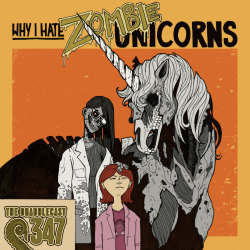 Saturday, January 10th, 2015
The good news is, zombie unicorns almost never bite. The bad news is, even a tiny scratch from a zombie unicorn horn will turn you into a zombie. Mom discovered that by accident.
Read by:
Renée Chambliss
Episode Art:
David Flett
This story first appeared in
Shimmer
#20, July 2014.
Twabble:
" I know they're watching. Waiting, expectant, in the walls and ceiling. I begin my performance, to rapturous applause. " by
pondspider