Feature:
The Island of White Houses
by
Alisa Alering
Drabble:
It's a Scary World Out There
by
Miniscreams
Genres:
Fantasy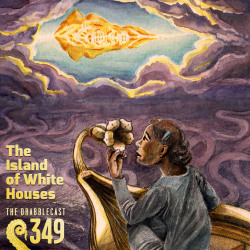 Sunday, February 8th, 2015
Today I am going to the island.
I climb the slick wood stairs down to Whitmuth beach. The wind blows fierce through the town like usual and swirls back out to sea, smoky with our coal fires and smacking with hot oil from the fry shops up and down the boardwalk.
Episode Art:
Susan Reagel
This story was originally published in
Flytrap
#11, edited by Heather Shaw and Tim Pratt.
Twabble:
" At the crescendo of his cruelty, he rotted away and died. The portrait of Dorian Button became that of a newborn baby boy. " by
Rhett Khan