Feature:
Snow Day
by
Nalo Hopkinson
No drabble for this episode.
Genres:
Sci-Fi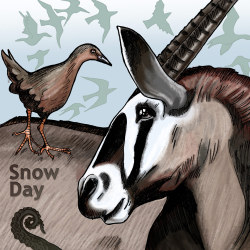 Wednesday, March 18th, 2015
The shovel bit through the foamy snow on the top stair of my front porch, then stopped with a clang. I scraped away the snow to see what was beneath. Ice. Serve me right for not shoveling after the snow had fallen last night. It had thawed, then the temperature had dropped into the deep freeze, and now the steps and the sidewalk were frozen solid.
Read by: Marguerite Kenner
Episode Art:
Caroline Parkinson
This story first broadcast on CBC Radio, in 2005, as part of the
Canada Reads
project.
Twabble:
" He heard voices in his hard drive's white noise, and shivered in the cold after the furnace fan told him what he must to do. " by
Groomporter