Feature:
Time to Say Goodnight
by
Caroline M. Yoachim
No drabble for this episode.
Genres:
Fantasy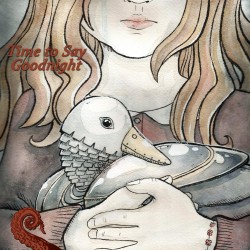 Wednesday, June 10th, 2015
"Then Duck left Mr. Tomkin's farm and went to swim in Glacier Lake, just like he'd always wanted." Mommy looked up from the last page, but Clara wasn't sleeping.

"And then what did Duck do?" Clara asked.

"That's all there is."

"Duck died?"
Read by:
Rish Outfield of the Dunesteef Podcast
Episode Art:
Jessica Welks
Time to Say Goodnight
first
appeared in Fantasy Magazine
, December 2007.
Twabble:
" My neighbor's back yard was filled with Irises. That explained his phone book collection. It's not that popular a name. " by
groomporter