Update (Sunday, June 22, 2014):
Drabbleclassics 2 – Over the Walls of Eden
Feature:
Over the Walls of Eden
by
Jay Lake
No drabble for this episode.
Genres:
Drabbleclassics Fantasy Mystery Sci-Fi
Original Episode:
133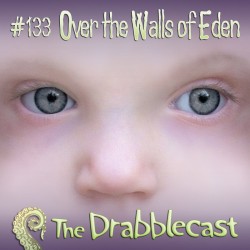 Wednesday, October 7th, 2009
"Why do you remember the books?" he finally asks.
She smiles again. "O Sun, to tell thee how I hate thy beams, That bring to my remembrance from what state I fell, how glorious once above thy sphere, Till pride and worse ambition threw me down…"
Episode Art:
Bo Kaier
Read by: Bill Glover
Music by: Scott Shannon, Bonnie Mitsch, and Norm Sherman
Originally published in in
Descant
#122, August 2003.
Twabble:
" A common ancestor? Darwin, you poor fool. This ancestor was beautifully complex, and the downward spiral inevitable. " by
GuitarDel