Feature:
Free Range
by
Bruce McAllister
Genres:
Comedy Fantasy Strange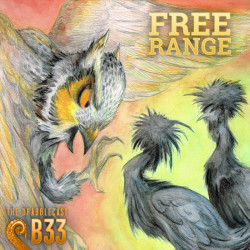 Friday, November 15th, 2013
After she lost interest in the green eggs—yes, green chicken eggs (taste the same, look dyed, so what's the point?)—my neighbor Johanna started raising black chickens. Yes, black ones. They're popular in China for reasons ranging from nutrition to superstition, and she'd gotten three hens and a rooster from a guy in Chinatown—in exchange for the last two green-egg chickens she had.
Episode Art:
Haley Grunloh