Feature:
The Parasite Parade
by
Norm Sherman
Genres:
Comedy Strange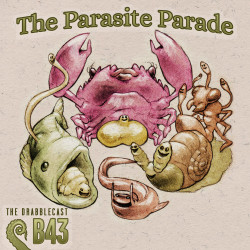 Sunday, April 20th, 2014
If you could shrink tiny, and drop down your own throat
Like the tiniest of captains on the tiniest of boats
I bet you'd be shocked at the things that you saw
In the dark and the damp of your damp and dark maw.

Your body's a marvel, it's one of a kind
Which is why countless scary small things live inside!
They can't live in houses, as most of us do
So they climb inside people– like me and like you!
Episode Art:
Bo Kaier