Feature:
The Great VüDü Linux Teen Zombie Massacree
by
Lucy A. Snyder
Genres:
Comedy Horror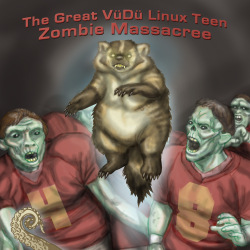 Tuesday, April 7th, 2015
Bob and I attracted a pack of zombies when we stopped to fuel up at the Texaco in Buffalo Springs. I hoped we'd lost them, but hope was all I had. Bob said they were the fresh remains of a high school football team who'd been drowned and de-souled by water daemons at a lakeside party.
Episode Art:
Aaron Siddall
This story first appeared in the book
Installing Linux on a Dead Badger
, published October 2007.