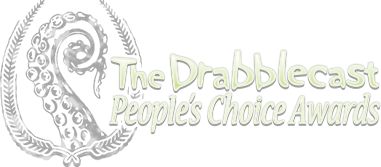 Once again, it's time for the Drabblecast People's Choice Awards!
Please vote for your favorite
: Stories, Drabbles, Twabbles, and Cover Art -- from among the winning nominees.
Vote for the best Story
Vote for the best Cover Art
Vote for the best Drabble
Vote for the best Twabble
Voting closes Saturday, March 22nd, 11:59 PM, PDT.
Show your support for some fine entertainment. Winners get bragging rights and the best story also gets
the Drabblecast, Sacred Chalice of Glory
.