Update (Saturday, December 20th, 2014):
Drabbleclassics 13 - Rangifer Volans
Feature:
Rangifer Volans
by
Tim Pratt
Drabble:
Zuzu's Bell
by
Mur Lafferty
Poem:
'Twas the Night (mp3)
by Norm Sherman
Genres:
Comedy Drabbleclassics Horror Strange
Original Episode:
192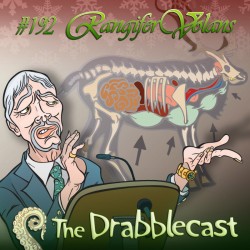 Saturday, December 25th, 2010
In early December, Brad Miro walked into the office of his partner, Dr. John Estes, and said, "I've got our next target. It's perfect. The public is going to love it."
Episode Art:
Bo Kaier
A Drabblecast original story.
Twabble:
" I saw Mommy kissing Santa Claus, and it became suddenly clear why I was the single teenager sporting a fluffy white beard. " by
CLP