Feature:
Try My Shank
by
Kenton K. Yee
Feature:
Morning Espresso at the Church of Me
by
Anthony J. Rapino
Feature:
Dead Jimmy and the Selkie
by
Iseult Murphy
No drabble for this episode.
Genres:
Comedy Strange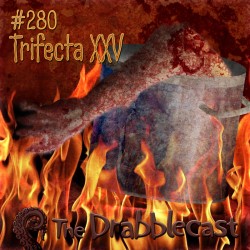 Thursday, April 25th, 2013
You've been one-legged since the lasso trap. Your personal ad says "Kids: undecided" even though you desperately want two.

When the maître d' shows you to your blind date's table, you are pleased with her prominent forehead and symmetric face. She has potential.

Before you can sit, her eyes drift to where your missing leg would be and snap back to your face. She forces a smile.
Art by
Matthew Mattice
Read by:
Mat Weller
,
Nathan Lee
Music by:
Gringo Motel
Twabble:
" My butcher offered me a hand with my parcels, but they never have enough meat to justify picking out all the little bones. " by
Laria Grey