Feature:
The Revelation of Morgan Stern
by
Christie Yant
Drabble:
Dear John
by
Rachael K. Jones.
Genres:
Drama Horror Romance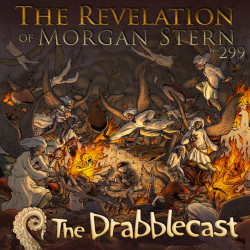 Friday, October 11th, 2013
It is July 31, your birthday, and I can't reach you. I've been trying all day, but the cell networks are down, the internet is down. I even tried a pay phone–there are two left in town that I know of, and I collected all of my change and walked to the 76 in the village. It was on fire. I watched it for a while from a distance as it painted a brown, toxic streak across the sky. It was a long walk back to the house, or what's left of it. My feet hurt, and it was too quiet.
Jerel Dye on Tumblr
Episode Art:
Jerel Dye
Twabble:
" The tortured screams of the people dying in agony are muffled by thumping Swedish disco music, here in my ABBA-ttoir... " by
Chris Munroe