See the episode page to listen, to download, or to read story text
.
Feature:
Tea Baby
by
Spike Marlowe
Feature:
Spiders
by
Bonnie Jo Stufflebeam
Feature:
Tea-killer
by
Zoltán Komor
No drabble for this episode.
Genres:
Fantasy Horror Strange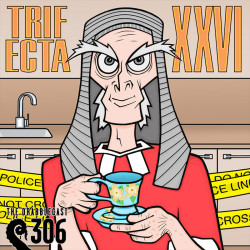 Tuesday, December 17th, 2013
While sipping my tea in the morning, I find a small, only two inches long, naked female corpse on the bottom of the cup. Her white skin fades int the white porcelain, tiny gobs of tea leafs cover her round breasts. I immediately slap the cup down, and snick across to the phone to call the police. I forget all about checking if she's really dead. Of course, how could I give her a mouth to mouth resuscitation, if not? Her body is about the size of a match-stick.
Episode Art:
Gino Moretto
Read by: Hugh O'Donnel, Lauren Harris
Twabble:
" Keven sat, nearing tears again with this latest love letter to Raquel. He just could not find a "Q" to cut from the papers. " by
Kbilly