Feature:
Birds of the Air
by
Joe Pitkin
No drabble for this episode.
Genres:
Fantasy Strange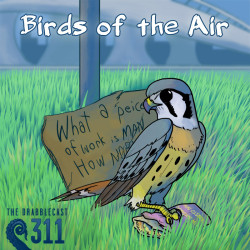 Wednesday, February 5th, 2014
Thomas takes his lunch outside the shelter, on one of the park benches that look out over the interstate and down all the way to the containment pond. He has wondered whether a passerby seeing him from the highway would know whether he worked at the shelter or was one of its clients. He has had this thought most days that he has sat here. Today, though, his attention has been arrested by a small patch of goose­like objects floating out on the containment pond. If they are geese, it will be the first time he has seen a living thing on that pond.
Episode Art:
Spencer Bingham
Read by: Joe Scaleo
Twabble:
" Buy a tree shadow from Peter Pan's NeverLandScaping.
All the summer shade you want without having to rake a single leaf. "
by
Bejami