Feature:
The Hodag
by
Trent Hergenrader
Genres:
Horror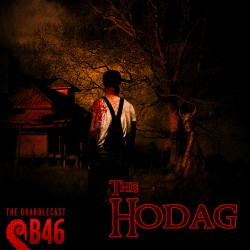 Thursday, May 15th, 2014
I still remember that cold October afternoon in 1936 when Whitey McFarland's old coonhound Maggie dragged herself out of the forest, whimpering and yowling. Her skin hung off her sides in red flaps and her eyes rolled wildly. She collapsed on the ground and howled.

All us kids loved Maggie, but not one of us dared go near her, not while she was baring her teeth and snarling. Benny Carper dropped the bat and ran off; Ira Schmidt just stood there staring at the half-dead animal as it pawed the frozen dirt. I tugged on Whitey's sleeve and told him to stay with Maggie while I got my dad—Whitey's dad was a drunk and never easy to find. When he finally nodded in understanding, I took off running.
Episode Art:
Richard K. Green
First appeared in
Black Static 7
, October 2008.