Update (Wednesday, October 8th, 2014):
Drabbleclassics 9 - The End of the Universe
Feature:
The End of the Universe
by
Eugie Foster
Drabble:
The Story
by
Michael Young
Genres:
Drabbleclassics Sci-Fi
Original Episode:
128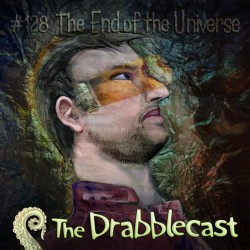 Wednesday, September 2nd, 2009
"Countdown commencing," the computer announced. "Termination of the universe in 10 . . . 9 . . . 8 . . ."
Eight seconds until the end of everything. No Earth, no galaxy, no existence...
Music by: Steve Stanger, Paradroid, Chris Willits and Norm Sherman
Episode Art:
Bo Kaier
Originally published in
Darker Matter
, May 2007.
Twabble:
" When She awoke her brain felt like it was wrapped in gauze.
It wasn't her apt. and it wasn't her blood, but it smelled good. " by
Revsleestaxx