Update (Tuesday, July 22nd, 2014):
Drabbleclassics 4 – Annabelle's Alphabet
Feature:
Annabelle's Alphabet
by
Tim Pratt
Drabble:
Tell-Tale Signs
by
Ralph Gamelli
Genres:
Drama  Fantasy  Drabbleclassics
Original Episode:
129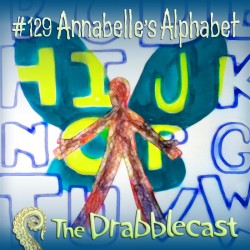 Thursday, September 10th, 2009
Annabelle's mother closed her eyes. "Get it sharp," she said. "Very sharp, so it doesn't hurt much. I'll boil some water."
Episode Art:
Bess Gutenstein
Music by: Gringo Motel, Devin Anderson, Marco Esu, Sara Ayers, Palestrina, Chopin, The Brothers Femme, and Norm Sherman
Originally published in:
Lady Churchill's Rosebud Wristlet
, October 2001.
Twabble:
" Cthulhu was buried in his wool suit, seaweed and supplications in his breast pockets. Mourners left behind their sons. " by
F5iver