Feature:
The Last Question
by Isaac Asimov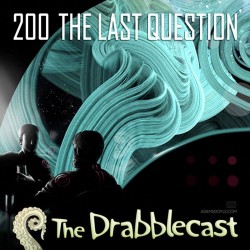 Friday, March 25, 2011
It all had a beginning in the original cosmic explosion, whatever that was, and it'll all have an end when all the stars run down. The sun will last twenty billion years and maybe the dwarfs will last a hundred billion for all the good they are. But just give us a trillion years and everything will be dark. Entropy has to increase to maximum, that's all...
The Dunesteef
Ray Sizemore
Mike Boris
Frank Key & The Hootingyard
Escapepod
Cheyenne Wright
Phil Rossi
Mur Lafferty
Winners of 2010 People's Choice Awards!
Best Story:
Elizabeth Bear
and
Sarah Monette
Best Drabble:
Chris Munroe
Best Art:
Lizanne Herd
Music by
Norm Sherman
,
Gringo Motel
,
Clint Mansell
Special Closing Music by
19 Action News
Art by
Adam Doyle
,
Lizanne Herd
,
Jan Dennison
,
Broken Cyborg
, Aimee Leonard,
Skeet Scienski
, and
Josh Hugo