Update (Monday, September 29th, 2014):
Drabbleclassics 8 - The Wish of the Demon Achtromagk
Feature:
The Wish of the Demon Achtromagk
by
Eugie Foster
Drabble:
My Hot Spot
by
Jessica Boughton
Genres:
Drabbleclassics Fantasy Horror Strange
Original Episode:
214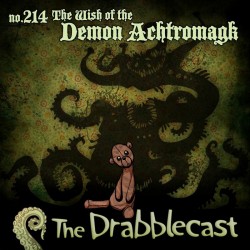 Wednesday, August 17th, 2011
Achtromagk shuddered, lost in nightmare images: crimson lightning dotting a wasteland, twilight despair and feeble railings, isolation in a mewling throng. It thrashed and twisted but could not escape, could not stop the unwanted vistas in its mind.
It was silent. And soft. And dark...
Episode Art:
David Flett
Returning My Sister's Face
by Eugie Foster
This story is a Drabblecast original.
Twabble:
" "Worry not," he said, smiling, "I'm a white wizard!"
...it was only later I realized: Not only was he evil, he was racist. " by
Chris Munroe