Feature:
The People of Sand and Slag
by Paolo Bacigalupi
Drabble:
Horseless
by
Nathan Lee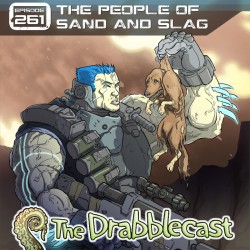 Tuesday, October 30th, 2012
"Hostile movement! Well inside the perimeter! Well inside!" I stripped off my Immersive Response goggles as adrenaline surged through me. The virtual cityscape I'd been about to raze disappeared, replaced by our monitoring room's many views of SesCo's mining operations. On one screen, the red phosphorescent tracery of an intruder skated across a terrain map, a hot blip like blood spattering its way toward Pit 8.
Warning: Violent imagery, some explicit language, sexual encounters.
Art by
John Deberge
Read by
David Robison
,
Naomi Mercer
, and
Mike Boris
Twabble:
" I gave my cat a tinfoil hat and could no longer hear his voice. But, all nearby people collapsed like stringless puppets. " by
Algernon Sydney is Dead