Feature:
Turning Point
by
Poul Anderson
Drabble:
The First Wish
by
Phineas QB
Genres:
Drama Sci-Fi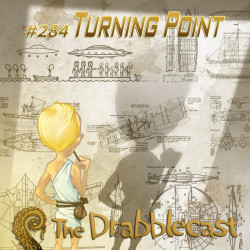 Saturday, June 1st, 2013
Please, mister, could I have a cracker for my oontatherium?"
Not exactly the words you would expect at an instant when history changes course and the universe can never again be what it was. The die is cast; In this sign conquer; It is not fit that you should sit here any longer; We hold these truths to be self-evident; The Italian navigator has landed in the New World; Dear God, the thing works!–no man with any imagination can recall those, or others like them, and not have a coldness run along his spine. But as for what little Mierna first said to us, on that island half a thousand light-years from home . . .
Episode Art:
Neil Googe
Twabble:
" A mugger stops 2 guys for money. As they both take out cash, one guy hands the other a bill & says, "Here's that 20 I owe you!" " by
Algernon Sydney is Dead