Feature:
Locked In
by
Mary Robinette Kowal
Feature:
Clockwork Chickadee
by
Mary Robinette Kowal
No drabble for this episode.
Genres:
Drama Fantasy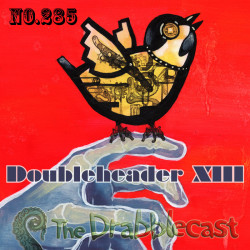 Wednesday, June 19th, 2013
Samuel sat on the balcony, enjoying the fading light of day. When the ventilator pushed air into his lungs, he savored the salt brine from the sea. He pretended that he had control over breath, but it was much a fantasy as adjusting his wheelchair.

The start of another bed sore throbbed beneath his right hip. It would be another day or more before the sore became visible.
Episode Art:
Matt Wasiela
Read by:
Ray Sizemore
, Norm Sherman
Twabble:
" Odd laws are on the books because someone tried it once. So if you're going to fling piranhas, keep your pants on, please. " by
Varda