Feature:
The Lurking Fear
by
H.P. Lovecraft
No drabble for this episode.
Genres:
Horror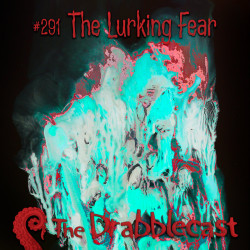 Tuesday, August 6th, 2013
There was thunder in the air on the night I went to the deserted mansion atop Tempest Mountain to find the lurking fear. I was not alone, for foolhardiness was not then mixed with that love of the grotesque and the terrible which has made my career a series of quests for strange horrors in literature and in life. With me were two faithful and muscular men for whom I had sent when the time came; men long associated with me in my ghastly explorations because of their peculiar fitness.
Episode Art:
Gabo Vitollo
Poem:
The Fungi from Yuggoth
  by
H.P. Lovecraft
Twabble:
" They say, "Write about what you know." So she heeded the advice, and had an excellent career writing rejection notices. " by
Tom Baker