Feature:
Twenty Ways the Desert Could Kill You
by
Sarah Pinkster
Drabble:
Improved Stars
by
Chantal Beaulne
Genres:
Fantasy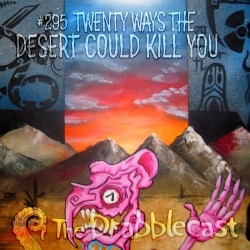 Monday, September 9th, 2013
1. A poisonous snake could bite you, and you could die.
2. You could prick your finger on a previously undiscovered poisonous cactus.
3. The cactus isn't poisonous, and neither is the snake, but the snake's venom is a powerful anti-coagulant. You could bleed to death from the place you were bitten and/or pricked.
Full version of Jacob Wayne Bryner's episode art (prints available)
Episode Art:
Jacob Wayne Bryner
Read by:
Michelle Ristuccia
Twabble:
" "Geomancy. G-E-O-M-A-N-C-Y." In the crowd, proud wizards cheered for their apprentices. The Spelling Bee had begun. " by
Varda