Feature:
Flying On Hatred of My Neighbor's Dog
by
Shaenon Garrity
Drabble:
Crisis of Competence
by
Travelin' Corpse Feet
Genres:
Comedy Sci-Fi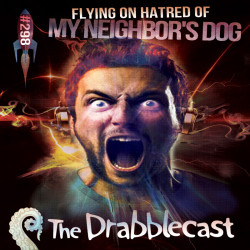 Thursday, October 3rd, 2013
I know my neighbor's dog as a bark: a deep, dark, venomous yawp that begins and ends on a snarl. It's loud, louder than it should be. Earplugs do nothing. It penetrates. Once it starts, it continues, relentlessly, for a period ranging from one to four hours. It can start at any time, day or night, dropping from the veils of morning to where the cricket sings.
Episode Art:
Richard K. Green
Read by:
Nathan Lee
Twabble:
" The demon was fed up with an eternity of unpaid torturing. Calling a strike, he shambled off to see if he could raise hell. " by
Cymraeg