Feature:
Everything Ravaged Everything Burned
by
Wells Tower
Drabble:
My Robot
by
Christopher Munroe
Genres:
Action Fantasy
Warning: Explicit language and violence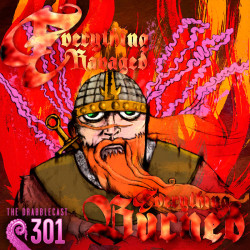 Saturday, November 9th, 2013
Just as we were all getting back into the mainland domestic groove, somebody started in with dragons and crop blights from across the North Sea. We all knew who it was. A turncoat Norwegian monk named Naddod had been big medicine on the dragon-and-blight circuit for the last decade or so, and was known to bring heavy ordnance for whoever could lay out some silver. Scuttlebutt had it that Naddod was operating out of a monastery on Lindisfarne, whose people we'd troubled on a pillage-and-consternation tour through Northumbria after Corn Harvesting Month last fall. Now bitter winds were screaming in from the west, searing the land and ripping the grass from the soil. Salmon were turning up spattered with sores, and grasshoppers clung to the wheat in rapacious buzzing bunches.
Kick Ass Donor:
Lone Mopper Productions
Episode Art:
Brent Holmes
Read by: Graeme Dunlop
Music: "Still Alive" by
Jonathan Coulton
Twabble:
" Wiping my own piss off the back of my head, I stormed out of the men's room. It was time to take the portal gun away from Drew. " by
kentblue82