Feature:
Heaven is a Place on Planet X
by
Desirina Boskovich
Drabble:
In the End
by
Ken Galo
Genres:
Sci-Fi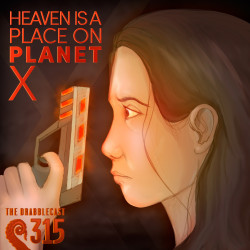 Friday, March 7th, 2014
It was 8:34 p.m. on a Tuesday, and it was almost the end of the world.

Actually, the world was expected to end on Friday, at precisely 5 p.m., eastern daylight time. This was not a forecast, or a projection: it was more like an appointment.
Episode Art:
Mary Mattice
Read by:
Folly Blaine
This story is part of
The Apocalypse Triptych
.
Twabble:
" "Seems like magic? Of course. Any sufficiently advanced technology does!" The nanobots finished their incantation. " by
Farseeker