Feature:
Half a Conversation, Overheard While Inside An Enormous Sentient Slug
by
Oliver Buckram
Drabble:
Motel
by
Soledad Sakamoto
Genres:
Comedy Sci-Fi Strange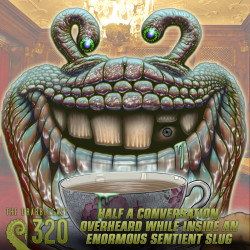 Tuesday, April 8th, 2014
Thank you, Inspector. I'm ready.

Yes, I understand my rights as a resident extraterrestrial. No, that won't be necessary.

Of course. Ask me anything. I only wish to see justice done.
Episode Art:
Skeet Scienski
First appeared in the Magazine of Fantasy & Science Fiction, 2013
Twabble:
" The dragon ate me but did not destroy my amulet of protection. Still, after days of battling in intestines, I was pooped. " by
Algernon Sydney is Dead