Feature:
Kiriki Grocery
by
Tory Hoke
No drabble for this episode.
Genres:
Sci-Fi
Start of Drabblecast,
People's Choice Award
nominations announced.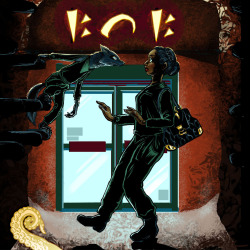 Tuesday, April 7th, 2015
The last day of orientation at New Plymouth University, Work Placement called students up in pairs. Rhonda Morillo took the chair next to a big-boned blond girl--Deirdre, pretty sure--as their peer advisor announced their "exciting cultural opportunity": stocking shelves at Kiriki Grocery.
Episode Art:
Tory Hoke
This story is a Drabblecast original.
Twabble:
" The Assassin's Wives Club threw her a party for her first kill. A small party with a small cake, that no one dared to touch. " by
Drewdidthis