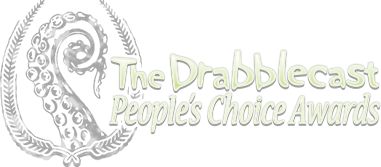 Select your favorite of the 5 nominated stories to determine this year's People's Choice Award winner. Poll will run until
Monday 3/25
. Poll also running on facebook - please vote only once.
Jagganath
by Karin Tidbeck
Generations ago the survivors of a ruined world struck a deal with their Mother, an enormous creature merging flesh and technology. They live symbiotically within her, helping her do everything from navigating to digesting food, while in return she provides them safety and sustenance. When Mother is injured beyond repair, starved for both food and fresh genetic material, she passes on a dying gift.
Jimmy's Roadside Cafe
by Ramsey Shehadah
After the world ends, Jimmy cobbles together a makeshift roadside café where he assists passersbys. Whether they need scavenged supplies, hard truths, or a place to rest and say goodbye, his simple kindness is an oddly uplifting oasis in a ravaged world.
The Wreck of the Charles Dexter Ward
by Elizabeth Bear and Sarah Monette
When a living fish-like ship known as a boojum is found dead and drifting through space with its crew unaccounted for, a ship of researchers investigates to find a horrible scientific experiment gone awry involving reanimation of the dead.
The People of Sand and Slag
by Paolo Bacigalupi
Set in a post-human society where people are able to regrow limbs and eat even sand and slag for fuel, a team of soldiers discovers a stray dog and debates what to do with it, remembering for an instant what it once meant to be fragile and human.
Little Grace of the House of Death
by Eugie Foster
Little Grace seeks vengeance on her brother Hurt for the death of her beloved pet, Whiteface, whom she promised safety and refuge.