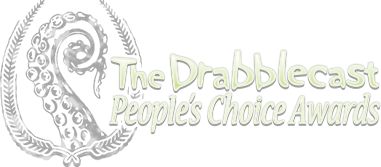 The voting is finished and we have our winners. Lots of good choices, the margin of victory was only one vote, for 3 of the 4 contests.
Best Story:
298 -
Flying On My Hatred of My Neighbor's Dog
by Shaenon Garrity
Best Cover Art:
Bsides 25 -
Fungi From Yuggoth
drawn by Bo Kaier
Best Drabble:
290 -
Structural Decay
by Nathan Lee
Best Twabble:
283 - by Seani:
As I type, revelations pour onto the screen. I realise I've selected "Absolute Truth Serif"- the font of all knowledge.