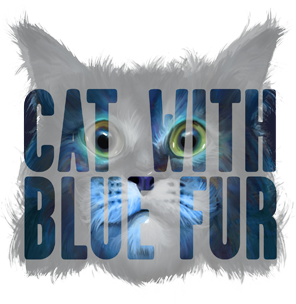 Here ye, Here ye! The Drabblecast's latest Writing Contest hath arrived!
You can hear the basics in the
intro to this week's show, episode 333
, but here are the full details...
Overview
Long-time Drabblecast listener Bart Epstein decided to sponsor an episode of the show through his work with the
Jefferson Education Accelerator
, but he decided to do much more than just sponsor a show. He decided to sponsor creativity, through a writing contest!
Every other night for the last few years, Bart has been telling his kids an ongoing bedtime story about a barn-dwelling blue cat who has crazy adventures with his friends, adversaries, various interlopers, and the family he lives with.
Bart wants to hear what kinds of

"Cat with Blue Fur"

stories Drabblecast listeners can come up with to totally blow his kids minds!
Categories
Your stories should be submitted here on the Drabblecast forums, in the following Three Categories already provided:
Science Fiction CwBF Story (hard scifi, military SF, space opera, space western, cyberpunk, parallel worlds, aliens, robots, time travel.)
Post your Science Fiction CwBF Stories here.
 
Fantasy CwBF Story (high fantasy, urban fantasy, dark fantasy, magical realism, superheros, steampunk, alternate history, dystopian, post apocalypse, slipstream, lost worlds.)
Post your Fantasy CwBF Stories here.
 
Horror CwBF Story (anything meant to be scary, let's just leave it at that!)
Post your Horror CwBF Stories here.
Obviously there's lots of overlap between genres. A story can be
a comedy-also-meant-2-be-scary with alternate history western super-heros and robot zombies
... so just pick the category you feel your story best fits. A story can only be submitted to one category.
Prizes
The writer of the winning story in each category will receive:
A Drabblecast Rucksack full of cool Drabble-schwag, such as original artwork prints, T-shirts, Trading Cards, signed Norm CD's and even more bonus, non-lethal surprises!
A custom Cat with Blue Fur Drabblecast Writing Contest plaque with your name engraved on it!
Your story bought, published and professionally read on the Drabblecast, with original artwork!
***Editor's Pick Award***
Finally, one of the 3 winners will be selected by Drabblecast Editorial Staff to participate in an upcoming "Online, Fully-Illustrated, Multi-Authored, Choose-Your-Own-Adventure Quest" working and collaborating with professional writers Tim Pratt, David D. Levine, Eugie Foster and more. Rock and Roll!
Story winners in the 3 main categories will be determined by community voting here on the forums in September.
Rules
A particular story can only be considered for one category. However...
Unlimited Submissions! Write as many as you like!
Stories must be flash-length, between 100-2000 words long.
Stories must be submitted by the author into the appropriate category in the Drabblecast Forums. Include each story as it's own individual Topic, with the title of the story listed as the Subject.
Stories must be submitted by September 15.
Story must have a character named the "Cat with Blue Fur" in it that is, in fact, a cat with blue fur...initially... or would at least appear to be... Your stories do not necessarily have to be be "about" the Cat with Blue Fur; he and his friends could just be tangential players in a different story. For example, the real characters of your story could just crash land at the farm where the Cat with Blue Fur lives, and have relatively brief interactions with him.
This is not a children's story writing contest-- this is a Drabblecast story writing contest. Go your own direction and have fun with it!
Get writing and Have Fun! If you have any questions please post them below or send them to
editor@drabblecast.org
---
Optional Guidelines and Mythos
These optional guidelines are meant just to give you an idea of Bart's previously established
Cat with Blue Fur
mythos--
your stories need not include them.
It might be fun if you do, but they do not effect your story's consideration.
This is NOT a children's story writing contest. This is a Drabblecast story writing contest. We hope that a few people will write pure and innocent children's stories, others will write twisted Lovecraftian children's stories that will give many kids their first real nightmares. But plenty of others will write stories that are appropriate only for teens or adults, and a small percentage of you will write stories that are appropriate only for hardened criminals and the clinically insane. And so long as your story has a Cat with Blue Fur character, please remember that using any of my current mythos is 100% optional and will not impact the judging.
Main Characters
The Cat with Blue Fur - lives in a barn on a farm with a family that has a dad, mom, boy of 7 and girl of 9. He has a great sense of right and wrong and fairness but makes plenty of mistakes.
His favorite foods are mice and salmon. He loves to explore the forest, often by riding on the back of the horse he shares a barn with. He doesn't much like water.
Girl Cat - is the Cat with Blue Fur's best friend. Every morning as he finishes his breakfast she is tapping on the window outside his kitchen, eager for him to come join her for the day's adventure. Girl Cat is 50% more worldly and savvy than the Cat with Blue Fur and is often surprised that he is so naive.
She loves water. She lives in a house nearby that is round and is made almost entirely out of glass. The family she lives with are meteorologists with lots of monitors showing weather patterns in their house.
Tiger is a former kitten now young cat who bunks with the Cat with Blue Fur. He looks like a little tiger and he's often frustrated that he can't do some of the dangerous things that the big cats do. Lately he's starting to sneak out and take risks on his own.
Spots and Patches are fraternal twin brothers who live in houses about 100 yards away from each other in the woods. To get to their houses from the barn you go through the farm animal area, over a hill and down a path into the woods, past the stream, and up another hill on a path that splits to each of their houses. They love to play hide and seek.
Chompy and Chompy are their other two close friends. They are identical twin gray cats (with the exact same name) who are big fat cats who love nothing more than to nap. If you ever can't find them they are probably napping up the nearest tree. Surprisingly, they are also the fastest cats in the world. The can run so fast that your eyes will hurt trying to watch them.
Bitey the snake lives in a tree on the farm. When we first met Bitey he and the Cat with Blue Fur were enemies because Bitey wanted to eat him. But over time they became friends, bonding over their common love of mice.
The dad/farmer is the Cat with Blue Fur's main human protagonist. He is constantly being outsmarted by the Cat with Blue Fur who somehow always manages to sneak into the car when the dad is taking the family someplace like apple picking, kayaking, camping, the airport for vacation, etc.
The Magic Fox is the Ricardo Montalban of the Magic World (described below). He makes wishes come true but each visitor to the Magic World gets only one visit per trip.
Recurring Themes/Rituals
I start every story by saying "This morning, the Cat with Blue Fur woke up..."
The Cat with Blue Fur sleeps in the loft of the barn in a straw bed, curled up with Tiger who started as a kitten, and is 2 years old now and is starting to join in some of the adventures.
Most mornings the Cat With Blue Fur walks down the ladder into the barn and shakes his head as he watches Tiger dance around under the horse's butt until a split second before the horse poops.
Every morning the Cat With Blue Fur goes over to the house and eats his cat food breakfast from a bowl that has his picture on the bottom of it. He gives his picture a friendly little lick each day.
The cats' regular meeting place is the stream in the forest. It is centrally located and they play all sorts of games there like hide and seek, trying to jump over the stream, trying to catch fish, etc. They usually meet there each morning before heading out to explore.
The cats can talk to each other and to other animals but they can't talk to humans.
At some point during my telling of the story each night, my boys are each allowed to squeeze my hand to make me say "SUDDENLY, JUST AT THAT MOMENT" and then make up an exciting plot twist on the spot, like a plane crash or someone pouncing from a tree. So, bonus karma to those who include a "suddenly, just at that moment" or two in their stories.
I wrap up each story with the Cat with Blue Fur curling up with Tiger to go to sleep. Sometimes he has a sleepover at Girl Cat's house and curls up with her.
Looking over the list of stories I've told I see that many of them involve poop jokes. This is due primarily to my audience being 4, 5, 6 , and 7 year old boys. Also, I was probably inebriated for a modest percentage of them.
Lots of my stories also involve characters learning lessons the hard way.
The Magic World
The Magic World is a place that the Cat with Blue Fur visits often. It is a pretty awesome place for cats, where the sun is always shining on great fields of grass that run along streams made of milk, every animal can fly just by lifting its paws slightly, and every animal that visits the Magic World gets one wish from the Magic Fox, who runs the place.
There are two known ways for the Cat with Blue Fur and his friends to access the Magic World...
One is a window in the master bedroom closet of the house of the family the Cat with Blue Fur lives with. This window is open only when there are no humans in the closet or the master bedroom. If the Cat with Blue Fur goes into the closet and sees the window into the Magic World disappear it is because the parents woke up or walked into the room.
The other is a 4 foot by 6 foot window on the wall of a secret room in the forest hidden under a trap door that requires six cats to lift.
The window back to the regular world only appears, floating over the meadow, when the bedroom back in the house is empty.
My boys have been asking for two years "what happens if the window disappears when a cat is halfway through?"
Secondary Characters
The Eagle has a friendly rivalry with the Cat with Blue Fur. For a long time they were constantly trying to drop snowballs on each other. Before they recently declared a truce the Cat with Blue Fur took a snowball out of the freezer and carried it up the mountain to drop it on the Eagle while he was sleeping.
The Chickens in the chicken coop don't like the Cat with Blue Fur coming into their coop because they worry he's after their eggs. He once went in their coop (as part of a treasure hunt) and got a pecking he will never forget.
The Pig has forever been trying to get the Cat with Blue Fur to roll around in the mud with him. A few months ago he was very dirty anyway and decided to give it a try. It was surprisingly awesome and fun but the cleanup was a big mess.
The Beavers are semi-naughty bit players who show up from time to time. They once ate two rungs from the Cat with Blue Fur's ladder and another time they ate a fence post that allowed the sheep to get out and wander around.
Heli-Cat lives on the other side of the mountain and spends most of her days flying in a helicopter (piloted by an unnamed human). The only way to talk to her when she isn't flying is to take a walkie-talkie up to the top of the mountain, to have line of sight reception with her. The helicopter sometimes drops things out by mistake.