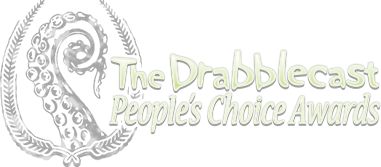 Best Twabble
Vote for your favorite twabble for the last Drabblecast year, from among the nominees.
Poll ends Monday, May 11th, at 11:59 PM, PDT
(Extended 1 week!)
---
Twabble Nominees:
320
(
audio
) author:
Algernon Sydney is Dead
The dragon ate me but did not destroy my amulet of protection. Still, after days of battling in intestines, I was pooped.
324
(
audio
) author:
Jarod K. Anderson
"G-g-g-ghost!" yelled Steve, ashamed about his stutter. "St-St-St-Steve!" yelled the ghost. It was mean-spirited.
335
(
audio
) author:
bryanwitha_y
The marionette boy dreamt of a world enveloped in string, from city to tree to cloud to moon. The freedom to fly anywhere.
338
(
audio
) author:
Unreliable Narrator
My sister just read a book about Stockholm Syndrome. She said it was pretty bad at first but by the end she kind of liked it.
346
(
audio
) author:
Kestaa
"Oh God, I'm pregnant!" Mary whispers, with hands folded and eyes closed.
"I know," the Voice replies. "I put it there."